Ice Cream Dipping Carts for Sale
Nelson BDC8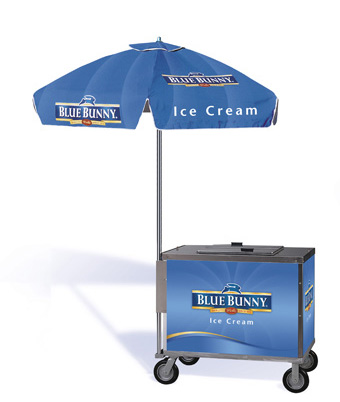 Hello, TurnKey readers!
Today we are posting about one of our favorite products that we sell. The Nelson BDC8 is the best-selling cold plate ice cream push cart that we have. It's great for Italian ice, ice cream, pre-packaged novelties, frozen lemonade and many more frozen desserts.
Nelson carts are the highest quality carts in the business. They are made 100% in the USA with quality materials that will withstand the great outdoors as well as years of use. Their dipping carts are excellent in terms of safety and sanitation. With stainless steel bottoms to minimize the chance of interior corrosion when product is left melted inside the cart.
Nelson ice cream dipping carts have the best cart wheels in the industry. They are long-lasting, natural rubber wheels with natural UV protection against sunlight that embrittles cheaper wheels. All Nelson carts also have heavy duty aluminum base frames from maximum strength and minimum weight.

Specifications
Lid locks standard on all models
Base frame to be welded alumium
All exposed corners welded and polished smooth
Finished exterior to be white Lexan, standard
Wheels to be 6″ or 8″ diameter (2) swivel locks, (2) rigid
Interior of cart is 24 gallons
Bottom drain for defrost
Condensing unit on glide-out base with service valves
Carts to have 5 year limited warranty for cold plate failure, insulation failure or internal tubing leaks
You can also buy a BDC8 with a built in canopy like in the photo below.