January 17th, 2011 by Neil Williams
What's the better option, making your own ice cream or buying and reselling 3 gallon tubs of  a recognized brand? Truthfully, there is no right answer. Both could be great options. This  post will simply to outline reasons why you would go in one direction vs. the other depending on your specific situation and your specific goals.
This question is frequently debated and asked by almost everyone planning to enter the ice cream store business. In my opinion, it depends on many factors.  I encourage those of you who make your own or buy a national brand in 3 gallon cans to post what led you to your specific strategy.
I'll start with the benefits of buying a national or strong regional ice cream brand that is pre-packaged in 3 or 2.5 gallon round tubs:
People like to buy what they are familiar with
Initial investment is lower – you only have to buy dipping cabinets and storage cabinets vs. a batch freezer, hardening cabinet, dipping cabinets, etc.
Less machinery means less utilities expense
Product consistency – making your own can also be consistent if you are the only one doing it, but once you have employees start making ice cream too, it can get tricky to maintain that consistency
Simplicity – no manufacturing labor – you buy 3 gallon tubs from an ice cream distributor, you drop them in the dipping cabinet and scoop away
Ok, now we move on to why making your own ice cream  might be the best choice:
Cost – normal markup on ice cream you purchase from a distributor allows you to make around 70% gross profit when charging what the market will bear.  In other words, if you charge $2 for a scoop, your cost is about $.60 for that scoop. When you make your own, the materials cost is much lower. That $2 scoop should cost you more  like $.30-$.40. If you make Italian Ices, your cost is even less
Exclusivity – Only YOU can sell your ice cream. Customers can buy national brands in many parlors and can also pick them up at the local grocery store
Variety – With an Emery-Thompson Batch Freezer, you can make not only ice cream, but you can also make your own Italian Ice and Gelato.
Homemade – People love homemade ice cream. Customers like the idea that the ice cream is made fresh and with a local twist to it. Customers like to see and know the owner of the business
Creativity – You can invent new flavors. You can make changes to the product suit your region's tastes. You can hold contests for new flavors using social media tools. The options are limitless
As you can see, the decision to make your own or purchase a pre-made product depends on many factors. You can make good money with both options.  For those who are on a tighter budget, the best option might be to start with a pre-packaged product.  For those of you who are creative and have the necessary start-up financing, you might want to consider making your own.
Look forward to hearing the comments and stories of those who have made the decision one way or another.
Interested in attending a FREE, live webcast on how to make ice cream, gelato and italian ice? Click the link below to read more and to sign up if you're up for it. Don't forget to come back here and post your comments!
Thanks again for reading this post!
Neil
CLICK HERE TO SIGN UP FOR FREE, LIVE WEBINAR ON HOW TO MAKE ICE CREAM, GELATO AND ITALIAN ICE

---
August 18th, 2017 by TurnKeyParlor.com
Buying a New vs. Used Soft Serve Ice Cream Machine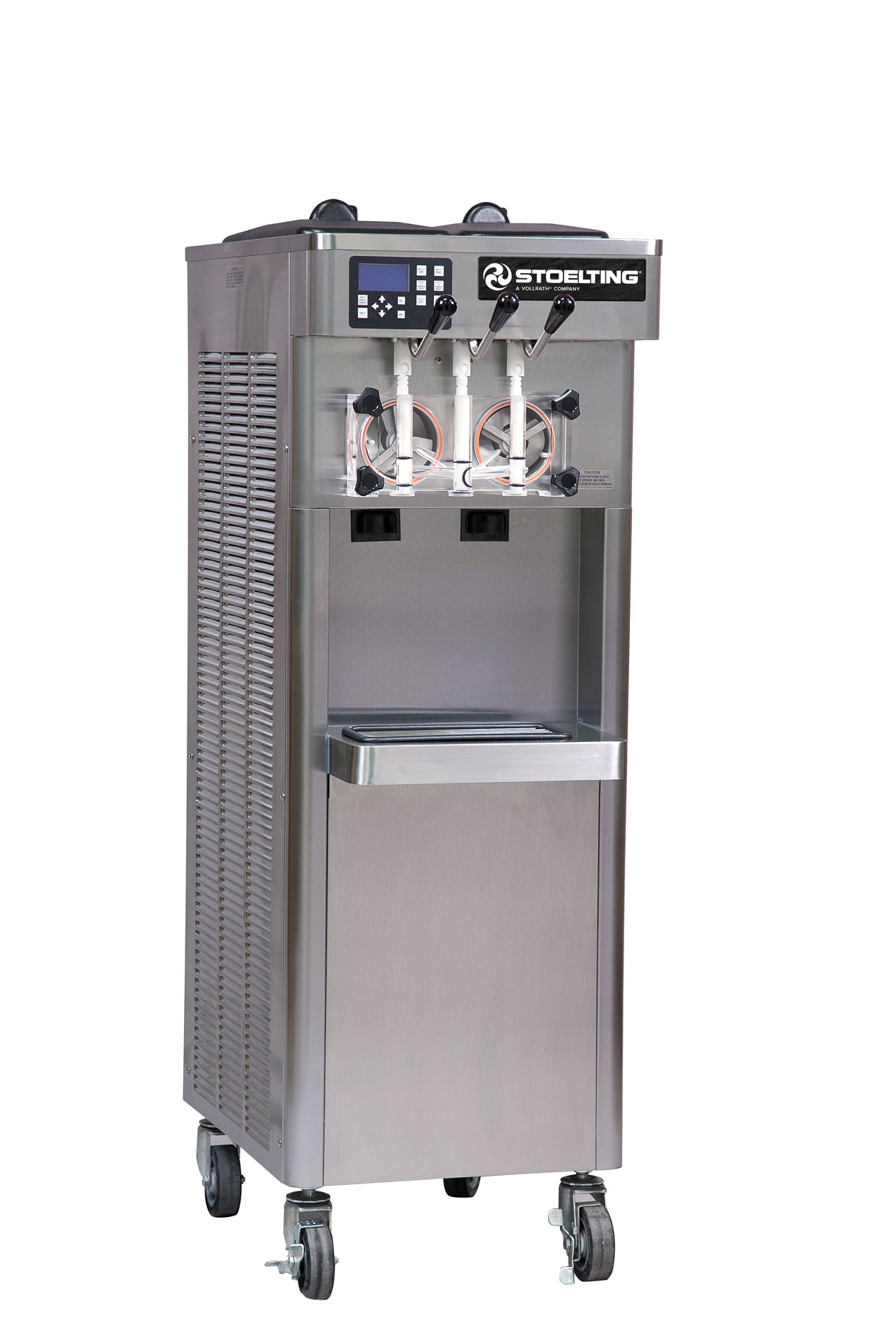 Soft Serve machines are expensive. There is no way around that fact. In my opinion, the better road to take is to buy a good quality used machine if you can get your hands on one. Just make sure you buy it from a reputable dealer. Buying from individuals is taking a bigger risk because most of them are interested in selling you the machine they own, so they aren't necessarily offering what you work best for your business and your customers. Buying from Ebay or Craiglist, is also very risky. At TurnKey Parlor, we will help walk you through the machine that makes most sense for your business AND your budget.
To learn more about machines, get our FREE Soft Serve Machine BUYING GUIDE!  E-mailed to you instantly.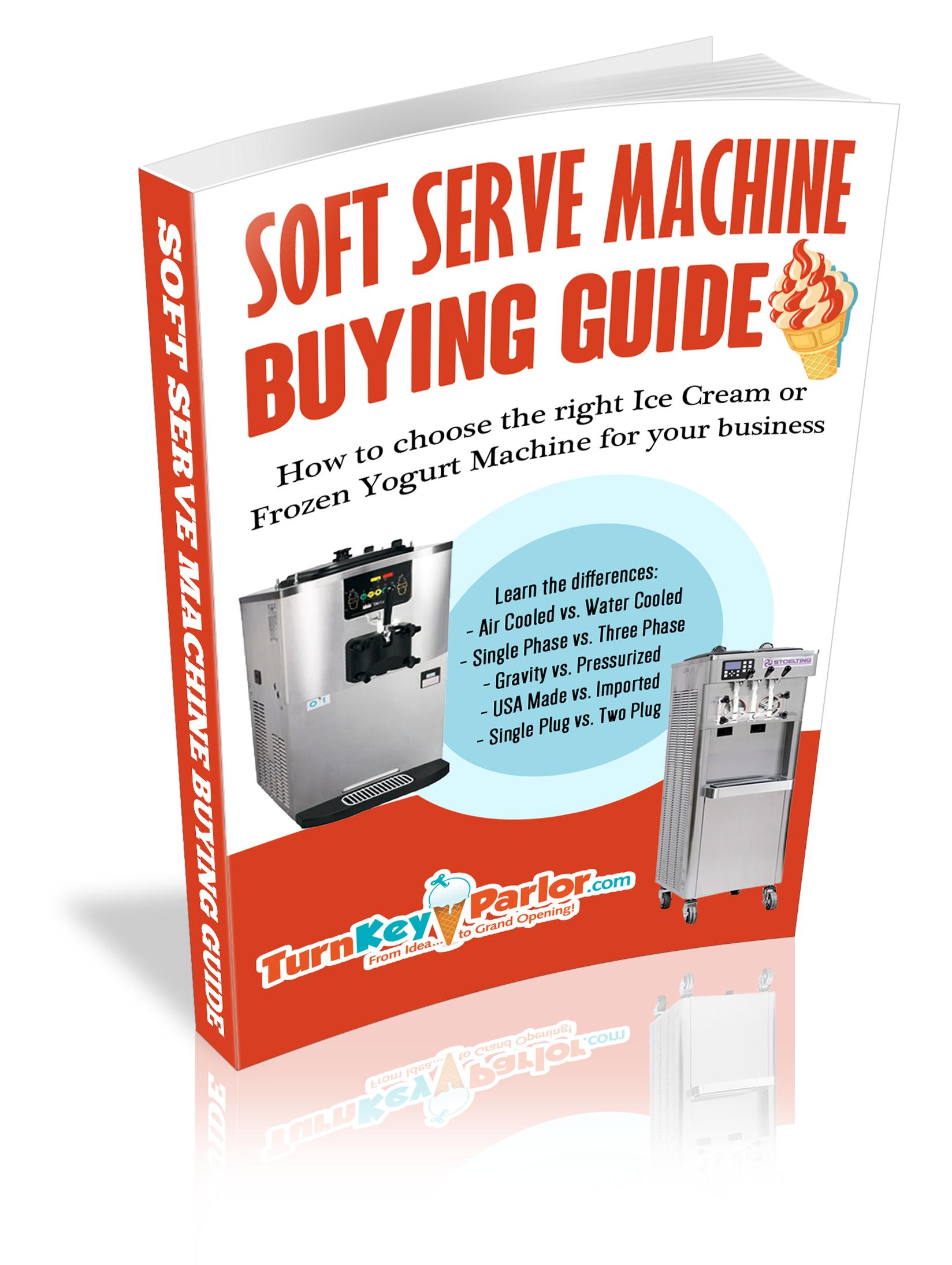 To learn more about machines, get our FREE Soft Serve Machine BUYING GUIDE!  E-mailed to you instantly.
---
August 25th, 2014 by Neil Williams
BARELY USED 2013 BDC8 Nelson Novelty Cart
Your price $2490.00 includes shipping
Savings $650.00. Normal cost on this cart new is $3140.
Call soon this one will not last. Seller purchased it last year and due to health problems had to retire. So it only saw a few days of action. EXCELLENT condition, like new. It's in perfect working order. We guarantee it. If for some reason it isn't working when you get it, we will send a tech out to fix it. No questions asked.
Barely used 2013 Nelson BDC 8 Novelty Cold Plate Cart NSF approval
Call 877-817-5716
---
August 24th, 2014 by Neil Williams
Super Cool New York City Themed Frozen Yogurt Store Equipment for Sale – Barely One Year Old – Featuring Six Electro Freeze SL-500 Machines and assorted equipment listed below. Seller paid over $130k just last year. Your price today is $65,900 with a $3,000 shipping credit (we pay up to $3k in shipping costs) plus a $2,500 warranty fund (90 days after machines are first operated or 6 months after you receive them, whatever comes first)
Store was beautifully done, sparing no expense, but the super high NYC rent makes profitability a real challenge.
See equipment list below and more pictures after that.
6 SL 500 Electro Freeze Water Cooled Machines
1 bally walk in refrigerator 5 10 by 7 6 wide stainless steel floor 30 inch super door
M9 POS System with 2 Ipads and 2 Scales
1 JBT-60 2 DOOR TOPPING UNIT PD
1 M3F24- SINGLE DOOR STORAGE FREEZER
ALL SNEEZE GUARDS
WIRED SHELVING ALL SHELVING INCLUDES WALL AND SELF
3 COMPARTMENT SINK, PREP SINK, HAND WASH SINK
TOPPING BAR HOLDS 36 TOPPINGS ALL STAINLESS STEEL
ALL POTTS, PANS, UTENSILS, TOPPING BAR STAINLESS STEEL PANS PD
LED DISPLAYS ( wraps around the whole store) PD 9500.00
Stainless steel storage looks like a train with 2 tvs inside  PD 14,500
EVERYTHING YOU NEED TO OPEN INCLUDES ALL FURNITURE NEEDED
---
August 15th, 2014 by Neil Williams
Seller paid over $140k for this equipment barely 1 year ago.
Your price is $75,900 and we will pay up to $3500 in shipping costs out of our own pocket. In addition, you get a 90 day warranty fund of up to $2500 for any parts or service or training needed within the first 90 days the machines are put into operation. You have a 6 month window to get the machines into operation.
8-Stoelting F231-30912-ADI 3 phase, air cooled soft serve machines
2 terminal Sunrise POS system. (scales, printers froyo specific software)
True T-49 double door Fridge
True T-49 double door freezer
Cadco ½ convection oven
JBT-48 Buffet with sneezeguard (18 cold topping bar – stand alone)
JBT-36 Buffet with sneezeguard (12 cold topping bar – stand alone)
2 –Server Hot fudge dispensers
2- Eagle group 48inch prep tables
Star Waffle cone maker 8inch
Wadden – 24 flavor system
Metalfrio glass door display freezer for frozen pies 8.6 Cubic feet
18-  Rossetto wall mounted topping dispensers (6 sets of 3)
Furniture: paid about $6000.00 for all the furniture
2 custom booths, crimson red vinyl.
6 bar height werzalit top tables stone color
4@36 in dia
2@28 in dia
9 table height werzalit top tables stone color
28 in dia
36 – 3 slat metal ladder back chairs, frame finish, light silver..crimson red vinyl seats
24 – 3 slat metal ladder back bar stool, frame finish light silver, crimson red vinyl seats
Many other smallwares..
Topping bins, bins for the buffets, spoons,
4 boxes of 600 each, red 20 oz cups
2 boxes of 600 each, white 24 oz cups
---
August 14th, 2014 by Neil Williams
4 used taylor model c723 made in 2013 – $39,900
Excellent condition. We pay up to $1,000 in shipping costs + you get a $1500 warranty fund for any parts or service needed within the first 90 days. If you are interested, don't delay. These will go fast. Buyer paid $60k less than a year ago.
---
August 13th, 2014 by Neil Williams
Six Taylor Model 794-33 water cooled three phase machines plus assorted equipment. $56,900 gets it all. Machines are in great condition. Made in 2011 and saw less than 3 years of operation.  You get up to $3,500 in free shipping costs and a $2500 warranty fund for any parts and service needed on any equipment during the first 90 days after they are put into operation. Also included: Walk in refrigerator (9′ X 8′), Aloha POS system with scale and printer, sinks, refrigerated drop in and sneeze-guard.
---
August 13th, 2014 by Neil Williams
Note: The second store featured in this video is the one we are offering here. Starts at 3:19 into the video.
Five Stoelting F-231 Air cooled single phase machines plus a lot of other equipment. Details to come.
The video below was taken when the store opened, so the equipment was brand new in the video.
The equipment is still in great condition. Pictures of actual equipment will be posted shortly, but the video will give you a good idea of what is included.
Keep in mind that this offer is of the SECOND store in this video, 5 machine store starting at 3:19 in the video.
---
August 13th, 2014 by Neil Williams
Unlike other equipment dealers who gloss over the fact that the frozen yogurt business is cooling off,  I'm here to give you the facts as I see them.

Is Frozen Yogurt dead? The short answer is No. It's still a great business. But it is showing signs of slowing. And why not? All businesses reach a level where they are no longer "the new hot business to get into".

The above said, there is still a lot of opportunity and cash to be made opening yogurt stores. You just need to be a little smarter than you needed to be in the past. A few years ago if you had money and some energy, you could make a lot of mistakes and still make money.

Today, there is still good money to be made for those who tread a little more carefully. No longer can you simply invest $300 to $400k in a franchise store and expect it to be a huge success. Too much competition in the larger markets. There are still pockets in large markets for good locations, but the biggest opportunity lies in smaller stores in smaller markets with less competition.

The positive to an industry reaching maturity is that it has now become a proven, money making business concept. 

Many people ask me why some yogurt stores have been going out of business. This is a natural question to ask if you see our "full yogurt store" used equipment listings. The simplest answer is…all industries have locations that don't make it. Frozen Yogurt is no different than a coffee shop or a restaurant or deli or any other business. Bad location, negligent management or a host of other issues can bring a store down. It is a basic business cycle. We sell used ice cream store equipment – and ice cream stores have been around forever. Many open, some close. Its "nature".

The way I see it, there are a couple of ways you can protect your downside and have the best shot at being successful.

1) Purchase a full store worth of used equipment. This limits your investment and gives you a shorter period to reach payback on that investment. As you know by now, we help match up sellers with buyers and we build in protective measures for both parties. I mention this because you need to be very careful if you buy used equipment directly from a seller. It's risky. Buying from TurnKeyParlor.com will not cost you a penny more and we will ensure that you are buying what makes sense for you. We hold 50% of a sellers $$ to ensure that you receive the equipment as advertised. We also manage shipping and fully insure it for damage. Lastly, we include a warranty for up to 90 days after you put the machines to work. I can't tell you how many people bought used equipment only to come to me later wanting me to help them sell it. Why? One example – they bought 3 phase machines without realizing that their store location only had single phase power and no way to upgrade to 3 phase. This essentially rendered the machines useless to them. They took a big loss right off the bat. This is just ONE of at least 5 mistakes you can make buying used stuff on your own. Don't expect a direct seller to help educate you. If you work with us, we will do our best to makes sure you don't make rookie mistakes. See our latest deals HERE

2) Go new, but limit the # of machines – Its comforting to buy new equipment with full warranties. And sometimes there isn't a used full store available that fits your needs. Going used isn't for everybody. We can help you with brand new equipment packages that are reasonably priced helping keep the investment as low as possible. 

Whatever path you choose, we are here to help you along. Our hope is that you value the fact that we are about as neutral a party as you will find in the business. We sell all the brands and will not push you one way or the other. We do our best to present unbiased information and hope that this translates into equipment sales for us. Its not a complicated strategy.

Sincerely,

Neil

Neil Williams
President
TurnKeyParlor.com
877-817-5716
---
August 12th, 2014 by Neil Williams
Three Taylor Mode 336-27 THREE Phase AIR cooled machines made in 2012.
These machines are in excellent condition at a great price. See spec sheet HERE
$28,500 includes shipping to 48 states, plus a $1500 total  warranty fund for any service or parts needed up to 90 days after the machines are put into operation.

---
August 4th, 2014 by Neil Williams
Three (3) Used Taylor Model 794-33 plus assorted equipment. Other items include a TRUE 2 door refrigerator, and a TRUE 2 door freezer, and a TRUE 18 flavor refrigerated topping bar  (no sneeze-guard, but we sell these new, so no problem there – about $300 new cost). Both in excellent working condition. Perfect for an operator looking to open a store and limit the investment. Also great if you want to add frozen yogurt to an existing business.
$25,900 – You would pay well over $60k plus shipping if you bought this equipment new. Want just the 3 machines, your price = $22,900. PICTURES AND VIDEO BELOW. You also get an "up to" $1000 warranty fund for any service or parts needed within the first 90 days after you put the machines in operation.
The machines are Model 794-33 air cooled 3 phase, made in 2008, good condition. As expected they have minor dings and dents on the panels, but that is cosmetic and does not in any way affect the performance of the machines. Air cooled means no plumbing requires. Just have an electrician hook them up and you're ready to go. Just make sure you have access to 3 phase power in your location. If not, this isn't the deal for you.
Click HERE for spec sheet on these Taylor 794's
Equipment List:
Three (3) Taylor Model 794-33 Air Cooled 3 phase machines
One (1) TRUE Model T35 2 door refrigerator
One (1) TRUE Model T35F 2 door freezer
One (1) TRUE TSSU4812 eighteen topping refrigerated topping bar with 2 door under-counter fridge
---