My Humble Beginnings in Paradise
The year was 1988. I was in Florida at the time, working for Multi-Vest Options in Ft. Lauderdale, shortly after graduating from Florida State. The phone rang and my older brother John said….."Neil, I bought an ice cream delivery truck and just shipped it to St. Thomas. I need help. I'll pay you $250 a week and give you a share of the business."
At the time, I was clearing about $175 a week, so it didn't take long for me to quickly blurt out, "I'm in!" A little history…. We grew up in Puerto Rico. Our father moved there from Chicago in the sixties and started a successful direct marketing business. John did a few years in different stateside colleges but did not graduate. Instead, he took flying lessons and got his pilot's license. He started a distribution business where he would fly fresh produce from Puerto Rico to the US Virgin Islands, The British Virgin Islands and further down the Lesser Antilles. My brother was obsessed with perfection and delivering the perfect product. I remember helping him one summer while I was still in college. We were sorting through cases of apples preparing to fly them to St. Lucia. John made me go through each and every apple in each and every case and remove the bad ones and replace them with good ones. I asked him why he was so worried about an apple having a bruise, especially if it was in the middle of the case. Who would know? He said that the best way to grow your business is to deliver a better than expected product and delight your customer each and every time. "Over deliver Neil, and they will keep calling you back"
All I could think of at the time was, my back hurts….when do we pack up and hit the beach? Needless to say, word got around fast and more and more customers wanted to buy product from that guy that flies in from Puerto Rico. The business flourished. But John only had one plane, and he could only carry so much produce. He started looking for a higher profit product. No, not "that"– although drugs were exactly what was going through each and every customs agent John had to face. They found it hard to believe that John was actually trying to build a business around flying produce. As crazy as it seems, he was doing exactly that.
Enter ice cream, a much more profitable product than produce!
John noticed that the ice cream on the supermarket shelves and ice cream parlors in these islands was almost always re-frozen. Horrible quality, at a high price. People accepted it and figured that this was the way ice cream was. Icy, grainy, sandy. He saw an opportunity and ran with it. He developed a system of double corrugated cardboard boxes lined with polystyrene (like the inside of your basic foam cooler). While inside the walk in freezer of the ice cream distributor in Puerto Rico, John packed and sealed the boxes to ensure that the tubs and pints remained rock solid. The flight was about an hour long, and John could get about 5 hours out of these boxes before the ice cream began to suffer. The 5 hours would give just enough time to get to the last account and deliver perfect product. Once done in the walk in freezer, he would pack the boxes in his van, head for the airport and take off for that day's island. Upon landing, he would quickly rent a pick up truck, clear customs, load up the boxes and head out to sell his accounts, who had pre-ordered the product. I'm not making this up…..although it seems hard to believe that anyone would try to build a business around this concept. Once John tired of the constant every day rush to avoid "meltdown" he realized that he needed to buy a truck. That is when I got the call and moved to St. Thomas, the island with the most promise.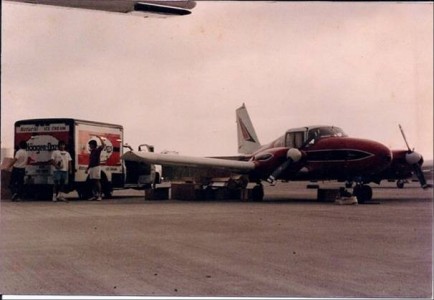 John continued to fly the product in, but we decided to concentrate on building the business on St. Thomas. The picture at the start of this post is of the two of us, John by the plane and me loading Haagen-Dazs bars into the truck. John would fly back to PR, and I would calmly go out and make deliveries. About a year later, my brother Michael joined the business. We bought another truck and Michael moved to St. Croix, to develop that market. I remember how John would always set goals and break-even points around the number of boxes we could sell in a given week. He would say things like, "when we get to 90 boxes a week, we'll be making some decent money…..so we need to open some more accounts to get there". All I can remember was thinking, boxes? Boxes? We need to start thinking in dollars and another way to grow this business. It didn't take long for John to start thinking in the same terms. At this point, we were starting to move enough product to start buying it in Florida and shipping frozen containers down to the islands.
We built walk in freezers on both St. Thomas and St. Croix. Our suppliers (Haagen-Dazs and Dreyer's/Edy's) were very happy with our performance and John was given the rights to distribute the Dreyer's/Edy's line for "the big island" – Puerto Rico. He later added Ben & Jerry's to the mix. By 1998, we had built a business with over 15 route trucks in Puerto Rico, St. Thomas and St. Croix. John and Michael are still actively managing the business today. In 2001, I started to get "island fever" and decided to move my family (wife Amy and two girls, Chelsea and Coco) to North Carolina where I began to develop TurnKeyParlor.com.
I still talk with my brothers on a regular basis and frequently bore others with our constant ice cream business conversations. So, the moral is….I'm really not sure……. No, all kidding aside, the moral is….. work hard, "over deliver" on your promises and good things will come your way. The goal at TurnkeyParlor.com is to offer the "best apples" possible to my customers on a daily basis. So far, this approach has helped me build a really solid, rapidly growing business. TurnKeyParlor.com is visited by thousands of prospects a month, many who turn into long term customers. If you have a story you would like to tell, or would like to comment on my story, please do so. Thanks for reading this post.
Neil Williams, President of Keyword Farms LLC
www.TurnKeyParlor.com
877-817-5716
equipment@turnkeyparlor.com