Ice Cream Push Carts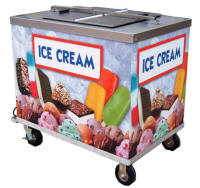 **Meeting health department requirements is the customers responsibility. Talk to us for clarity on this before making your purchase.**
There are 3 types of Push Carts
No refrigeration
Refrigeration
Cold-Plate Carts
These push carts are primarily designed to sell ice cream novelties, but some people use them to dip ice cream, gelato or Italian Ice because they are more affordable than the "official" dipping carts. If you want the bigger dipping carts with sinks, etc., click here.
Or, read on for more details on our ice cream push carts.
Cold Plate Push Carts
BDC-8 OUR BEST SELLER! See pricing and options HERE
These cold plates carts give you the most options. A cart with cold plates allows you to plug the cart in at night, and the next day, it holds temperature for up to 12 hours, even in extreme heat. And this is without access to electricity or the need for dry ice.
With Refrigeration Carts
CLT Models  – Great for catering! See pricing HERE  Need to be kept plugged in (some people use a generator if they don't have access to electricity). These carts are perfect for catering or for those who know they are going to have access to power most of the time. Click here for detailed information.
**Meeting health department requirements is the customers responsibility. Talk to us for clarity on this before making your purchase.
Standard features on all of our ice cream carts include a push bar, umbrella bracket, white lexan exterior, 6″ or 8″  rubber wheels, and a lid locking bar. Options include graphics, canopy, umbrella, bicycle wheels and a fold down shelf.
Our pushcarts are available for a wide variety of different products and temperatures.  Ice cream carts for novelties are generally set for -10 degrees and holding temperatures of around 0 degrees after the overnight charge.
Scooping carts, gelato carts, Italian ice carts and water ice carts can be ordered for special temperatures and can be equipped with our exclusive digital temperature control to dial in exactly the right operating temperature for your special product.
All Nelson ice cream pushcarts have available optional overhead canopies with pull-out shades for the operator and spring-assist canopy support poles. Even the largest and most complex carts can be easily broken down to fit thru a standard doorway without tools. See more here on our dipping carts.
The spring-assist canopy support poles are a Nelson exclusive, and are standard with all canopies.  No tools and very little effort is required to raise and lower the canopy, making setup and tear down a breeze.
WATCH VIDEO ON ICE CREAM PUSH CARTS BELOW (hit play button)
The type of ice cream cart you will need depends on several factors. Browse the options below, then feel free to pick up the phone and give us a call (877-817-5716). We'd be happy to discuss your situation and recommend what we think is the best option to help you reach your goal.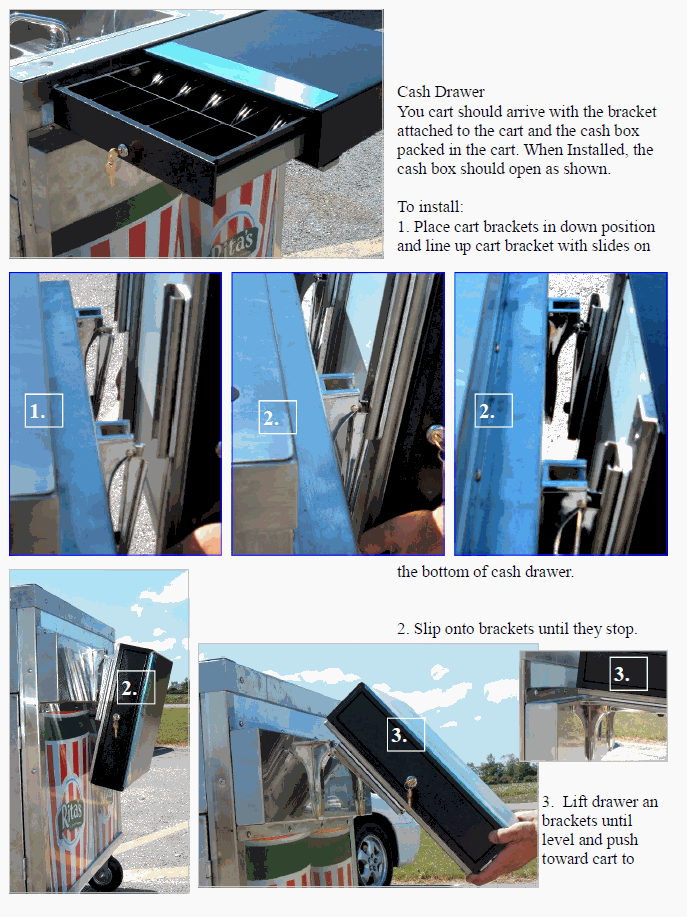 Before browsing the options, it may be best to watch this video and get a better idea of what these Push Carts are all about, then move on to the different options. Don't forget to sign up for our free guide to purchasing the right cart.
TurnKeyParlor.com offers the Lowest Pricing on the Highest Quality Ice Cream Carts in the Business. Simply provide your first name and E-Mail address below and you'll gain instant access to the pricing.
The type of ice cream cart you will need depends on several factors. Browse the options below, then feel free to pick up the phone and give us a call (877-817-5716). We'd be happy to discuss your situation and recommend what we think is the best option to help you reach your goal.
 If you plan to sell pre-packaged Ice Cream Novelties (Haagen-Dazs Bars, Dove Bars, Fruit Bars, etc.), click this link: Ice Cream Push Carts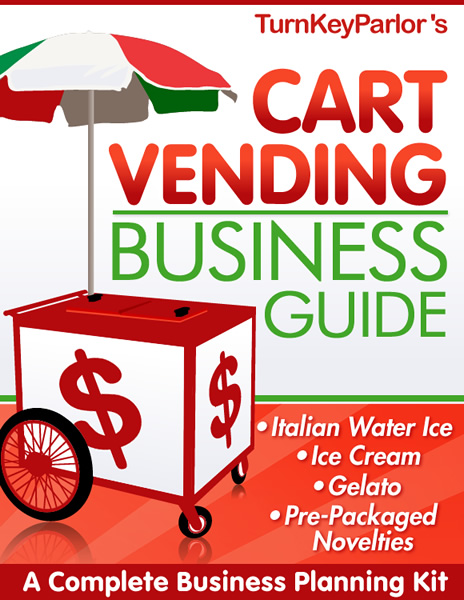 These ice cream carts are for sale and available for shipping in the following states and cities:
We ship our gelato cases to the following cities, states and countries:
New York, Los Angeles, Chicago, Houston, Phoenix, Philadelphia, San Antonio, San Diego,
Dallas, San Jose, Detroit, Jacksonville, Indianapolis, San Francisco, Columbus, Austin, Memphis,
Fort Worth, Baltimore, Charlotte, El Paso, Boston, Seattle, Washington,
Milwaukee,
Denver, Louisville/Jefferson County, Las Vegas, Nashville-Davidson,
Oklahoma City, Portland, Tucson,
Albuquerque, Atlanta, Long Beach, Fresno, Sacramento, Mesa, Kansas City, Cleveland, Virginia Beach,
Omaha, Miami, Oakland, Tulsa, Honolulu, Minneapolis, Colorado Springs, Arlington, Wichita,
 Raleigh, St. Louis, Santa Ana,
Anaheim, Tampa, Cincinnati, Pittsburgh, Bakersfield, Aurora, Toledo, Riverside,
Stockton, Newark, Anchorage, Buffalo, St. Paul, Lexington-Fayette, Plano,
Fort Wayne, St. Petersburg, Glendale, Jersey City, Lincoln, Henderson,
Chandler, Greensboro, Scottsdale, Baton Rouge, Birmingham, Norfolk, Madison,
New Orleans, Chesapeake, Orlando, Garland, Hialeah, Laredo, Chula Vista, Lubbock, Reno, Akron, Durham, Rochester, Modesto, Montgomery,
Fremont, Shreveport, Arlington,Glendale
AK,ALASKA, AL,ALABAMA, AR,ARKANS, AZ, ARIZONA CA,CALIFORNIA,CO,COLORADO,
CT,CONNECTICUT, DE,DELAWARE, FL,FLORIDA,
GA,GEORGIA, HI,HAWAII, IA,IOWA, ID,IDAHO,
 IL, ILLINOIS, IN, INDIANA, KS,KANSAS, KY,KENTUCKY, LA,LOUISIANA,
MA, MASSACH– USETTS, MD, MARYLAND, ME, MAINE, MI,MICHIGAN,
MN,MINNESOTA, MO,MISSOURI, MS, MISSISSIPPI,, MT, MONTANA,
NE, NEBRASKA, NC, NORTH CAROLINA, ND, NORTH DAKOTA, NH,
NEW HAMPSHIRE, NJ, NEW JERSEY, NM,
NEW MEXICO, NY, NEW YORK, NV, NEVADA, OH, OHIO, OK, OKLAHOMA,
OR,OREGON, PA, PENNSYLVANIA, RI, RHODE ISLAND, SC, SOUTH CAROLINA,
SD, SOUTH DAKOTA, TN, TENNESSEE, TX, TEXAS, UT, UTAH, VA, VIRGINIA,
VT, VERMONT, WA, WASHINGTON, WI, WISCONSIN, WV, WEST VIRGINIA, WY, WYOMING
Canadian Provinces:British Columbia, Manitoba, New Brunswick, Newfoundland and Labrador,
Nova Scotia, Ontario, Prince Edward Island, Quebec, Saskatchewan, Yukon Territory, Alberta.
Canadian Cities: Montreal, Calgary, Toronto, Winnipeg, Edmonton, North York,
Scarborough, Mississauga, Vancouver, Laval