ICE CREAM CARTS
Basic Push Carts and Mobile Dipping Carts with Sinks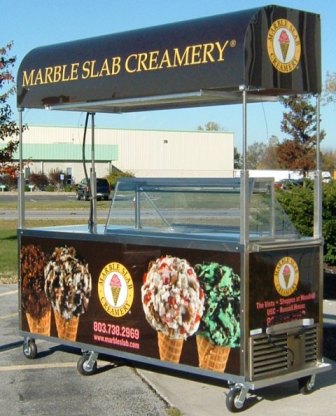 Looking for an Ice Cream Cart? We have exactly what you need. Our carts are the highest quality and we offer them at the lowest prices, guaranteed.
Our selection starts with the most basic push cart for ice cream bars, and ends with high end dipping carts. Our dipping carts can include sinks with pumps and hot water heaters, canopies that light up to make your logo shine, and even more options. In other words, a mobile dipping cart that would make even the finest mall in the country proud.
Start by clicking either the PUSH CARTS or DIPPING CARTS button below and that should lead you in the right direction.
 The Marble Slab Creamery cart on your left is a model BD8-DIP-CE-00 with a 2 ft extension
Model BDC-8 Push Cart below has built in Cold Plates – Holds temp for up to 12 Hours without the need for electricity or dry ice.
Click Push Cart link below to learn more and watch video! You can also click on our FREE Push Cart Vending Business Guide below.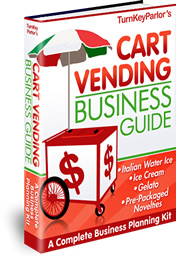 WHY OUR NELSON CARTS?
 Built to Last – Stainless steel, not cheaper aluminum or painted steel
 Built in freezer cabinets that are made specifically for carts. Not like the others out there that use cheap freezers and put them on a frame with wheels and call it a cart.
 Featured in Yankee Stadium, Disney World and NASCAR, just to name a few
 Natural Rubber Wheels – not cheaper vinyl wheels that get brittle and hard in the sun
 Made for Ice Cream, Gelato, Italian Ice or Frozen Novelties (ice cream bars, popsicles)
 Custom built to meet your local health department requirements**
Push carts are smaller and more affordable, dipping carts are larger and can be fit with sinks, etc. We also have a FREE guide to purchasing the right cart. You should see that below. Make sure to watch our videos.  If you click that it will take you to our videos page. Picture above is a Marble Slab Dipping Cart, to the right is a Blue Bunny Novelty Push Cart (BDC-8 with cold plates)
Start by clicking either the PUSH CARTS or DIPPING CARTS button below and that 
should lead you in the right direction.

Mobile Dipping carts are bigger than Push Carts – Primary use is for dipping ice cream, Italian ices and gelato – Can include sinks, dip well's, canopies.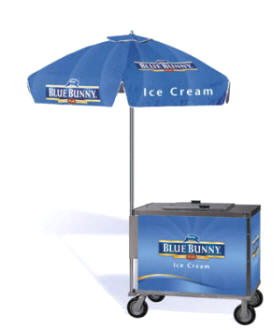 Basic Push Carts – Used mostly for novelties, some dipping – Lowest cost options
 Learn More WATCH VIDEO ON ICE CREAM PUSH CARTS BELOW (hit play button!)

The type of ice cream cart you will need depends on several factors. Browse the options below, then feel free to pick up the phone and give us a call (877-817-5716). We'd be happy to discuss your situation and recommend what we think is the best option to help you reach your goal.
Before browsing the options, it may be best to watch this video and get a better idea of what our Push Carts are all about, then move on to the different options. Don't forget to sign up for our free guide to purchasing the right cart.
TurnKeyParlor.com offers the Lowest Pricing on the Highest Quality Ice Cream Carts in the Business. Simply provide your first name and E-Mail address below and you'll gain instant access to the pricing.
 If you plan to sell pre-packaged Ice Cream Novelties (Haagen-Dazs Bars, Dove Bars, Fruit Bars, etc.) then look for more information above.
 If you plan to Dip Ice Cream Cups and Cones, click this link:  Mobile Ice Cream Dipping Carts
 If you plan on Dipping Italian Ice, click here:  Italian Ice Dipping Carts
Dip Ice Cream Cups and Cones? If yes, click here:  Mobile Dipping Carts
— USED ICE CREAM CARTS – click here
— USED ICE CREAM DIPPING CARTS
We ship our ice cream dipping cabinets for sale to the following cities, states and countries:
AK,ALASKA, AL,ALABAMA, AR,ARKANSAS, AZ, ARIZONA CA, CALIFORNIA,CO,COLORADO, CT,CONNECTICUT,
DE,
DELAWARE, FL,FLORIDA, GA,GEORGIA, HI,HAWAII, IA,IOWA, ID,IDAHO, IL, ILLINOIS, IN, INDIANA, KS,KANSAS, KY,KENTUCKY,
LA,LOUISIANA, MA, MASSACH– USETTS, MD, MARYLAND, ME, MAINE, MI,MICHIGAN, MN,MINNESOTA,
MO,MISSOURI, MS, MISSISSIPPI,, MT, MONTANA, NE, NEBRASKA, NC, NORTH CAROLINA, ND, NORTH DAKOTA, NH, NEW HAMPSHIRE, NJ, NEW JERSEY, NM, NEW MEXICO, NY, NEW YORK, NV, NEVADA, OH, OHIO, OK, OKLAHOMA, OR, OREGON, PA, PENNSYLVANIA, RI, RHODE ISLAND, SC, SOUTH CAROLINA, SD, SOUTH DAKOTA, TN, TENNESSEE, TX, TEXAS, UT, UTAH, VA, VIRGINIA, VT, VERMONT, WA, WASHINGTON, WI, WISCONSIN, WV, WEST VIRGINIA, WY, WYOMING
New York, Los Angeles, Chicago, Houston, Phoenix, Philadelphia,
San Antonio, San Diego, Dallas, San Jose, Detroit, Jacksonville, Indianapolis, San Francisco, Columbus, Austin, Memphis, Fort Worth, Baltimore, Charlotte, El Paso, Boston, Seattle, Washington, Milwaukee,
Denver, Louisville/Jefferson County, Las Vegas, Nashville-Davidson, Oklahoma City, Portland, Tucson, Albuquerque, Atlanta,
Long Beach, Fresno, Sacramento, Mesa, Kansas City, Cleveland, Virginia Beach, Omaha, Miami, Oakland, Tulsa, Honolulu,
Minneapolis, Colorado Springs, Arlington, Wichita, Raleigh, St. Louis, Santa Ana, Anaheim, Tampa, Cincinnat, Pittsburgh,
Bakersfield, Aurora, Toledo, Riverside, Stockton,
Corpus Christi, Newark, Anchorage, Buffalo, St. Paul, Lexington-Fayette, Plano, Fort Wayne, St. Petersburg, Glendale, Jersey City, Lincoln, Henderson, Chandler, Greensboro,
Scottsdale, Baton Rouge, Birmingham, Norfolk, Madison, New Orleans, Chesapeake, Orlando, Garland, Hialeah,
Laredo,Chula Vista, Lubbock, Reno, Akron, Durham, Rochester,
Modesto, Montgomery, Fremont, Shreveport,
Arlington,Glendale
Canadian Provinces:
British Columbia, Manitoba, New Brunswick, Newfoundland and Labrador, Nova Scotia, Ontario, Prince Edward Island, Quebec, Saskatchewan, Yukon Territory, Alberta.
Canadian Cities: Montreal, Calgary, Toronto, Winnipeg, Edmonton, North York, Scarborough, Mississauga, Vancouver, Laval
    Ice Cream Dipping Freezers for sale, Ice Cream Dipping Freezer, Ice Cream Scooping Freezer, Ice Cream Scooping Freezers, Freezer for scooping ice cream, glass front ice cream freezer, ice cream store freezer, shop freezer, parlor freezer, cabinet, cabinets, dipper, freezer for dipping cones, 8 flavor, 12 flavor, 16 flavor, 4 can, 8 can, 12 can, 4 bucket, 8 bucket, 12 bucket, 3 gallon, 5 gallon, ice cream tub holders, and more!
Ice Cream Carts For SaleIce Cream Carts, Ice Cream Push Carts, Ice Cream
Dipping Carts, Nelson Ice Cream Carts, Nelson Dipping Carts, Coldelite Ice
Cream Carts, Minus Forty Ice Cream Carts, Mobile Ice Cream Carts, Ice Cream
Novelty Carts, Popsicle Carts,Paletas,paleta carts,carro de paletas, para paletas, carritos de paletas, helados, helado