Ice Cream Dipping Carts
Read below for more information on Ice Cream Dipping Carts with Sinks, Dip Well's, Canopies, Cold Plates, Sneeze-Guards and other options!
(Click here if you're looking for more basic, smaller push carts)
Note:
For the most up-to-date pricing, please visit our e-store
HERE
Lid locks standard on all models. Our ice cream dipping carts start with a refrigerated cabinet manufactured in the USA. We never use a cheap bunker freezer and then try to modify it for use outdoors in high ambient temperatures. Competitors who use a cheap convenience store freezer for their carts will state that their freezer is NSF and UL/ETL listed. While that may be true, it does not mean that the cart they produce meets the standards of UL/ETL or NSF for a finished product to be used outdoors. The freezer itself might be NSF, but the freezer put on a cart for outside sales is not. The local health department requirement not something you play with.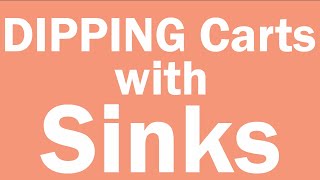 All of our ice cream carts are manufactured 100% in the USA and feature custom freezers with stainless steel bottoms on the interiors of the carts. When you have the inevitable accident of having melted product, particularly with frozen ices and other products that have citric acids, you won't worry about corrosion in your carts. They are built to last. Standard equipment on all the serving carts, whether for Italian ices, water ices, or gelato, come with our
exclusive digital temperature control
so you can dial in exactly the right temperature for your product. Our ice cream dipping carts are listed for both safety and sanitation for outdoor use and for the appropriate intended use.
BD8-DIPCE-04
Scooping CartBD6-CE (above) w/canopy & cold plates – Maggie Moos Ice Cream
BD6-DIP-CE-03 (with fold out shelf)
BD8-DIPCE-04 (above)
Same Cart that is pictured on top of this page. All of our Nelson outdoor ice cream pushcarts are manufactured with stainless steel bottoms to minimize the chances of interior corrosion when product is left melted inside the freezer cart. The tops are made of stainless steel with welded corners. They are equipped with the finest cart wheels in the industry- long-lasting, natural rubber wheels with natural UV protection against sunlight that makes cheaper wheels brittle.
THERE ARE FOUR (4) CART CATEGORIES
Basic cart
Cart with Canopy Only
Cart with Cold Plates Only
Cart with Canopy AND Cold Plates.
The all include sneezeguards, lexan panels, lid locks, cord wraps. optional visual flip lids vs. the stainless steel solid lids All electrically operated ice cream carts will be ETL or UL listed for
outdoor use.
Our ice cream carts will be NSF listed for the appropriate use. All of our ice cream pushcarts will have oversized electrical power cords suitable for
outdoor use.
Lid locks are provided on all ice cream carts as standard equipment. Heavy-duty welded aluminum base frames for maximum strength and minimum weight are standard Our carts are standard for ice cream novelty temperatures. Alternate uses, such as carts for Italian ice, water ice, other products can be specified at time of order for other temperatures. Dipping carts specified for scooping ice cream, Italian water ice, or gelato will have digital temperature control to provide precise setting of the desired temperatures.
---
---
Specs for all Models BD#-XXXCE-## :
Top to be stainless steel, standard. Optional solid surface materials.
Base frame to be welded aluminum.
All exposed corners welded and polished smooth.
Finished exterior with white lexan standard.
Wheels to be 6″ diameter (2) swivel w/locks, (2) rigid. Load rating of wheel to be a minimum of 350 lbs. each. Optional 8″ casters available.
Interior of cart to be stainless steel, standard.
Bottom drain installed for defrost.
Carts to have 5 year limited warranty against cold plate failure, insulation failure or internal tubing leaks.
Carts to be NSF and ETL listed for outdoor use.
115 volts, optional 220.
Sink system requires separate 15 amps of 115v. electric service.
–
Fold Down Cash Drawer Or Fold Down Shelf. These are really strong, great pieces of hardware.
Self Contained Mobile Hand Washing Sink Below
SPECS FOR NSF APPROVED MOBILE CART SINK
Constructed of 18 and 22 gauge type 304 stainless steel. Requires 120/1/60 electrical outlet 15 amp circuit. Sink bowl 21 gauge S.S. 11.5″ Diameter x 5 1/4″ deep. Chrome 4″ lavatory faucet with crystal handles. Sink drain (1.5″ Dia.) with strainer & stopper. Ariston water heater Model GL2.5, 2.5 gal. capacity 110/1/60 12.5 fl a., 1500 watt/12 amps. (UL, CSA compliant).



Shurflo series 8000 diaphragm pump, 115/1/60, .61 fla, 1.7 gpm free flow, w/pressure shutoff, .5 amp (NSF, UL). Optional Flojet pump 12/1/60, .5 fl a, .8 gpm., .6 amps (NSF). Supply tank with fill port & overflow-6 gal. nominal capacity. Waste tank with overflow & drain-9 gal. nominal capacity. Casters – 4″ swivel with brake. Optional quick coupling fill valve.