Ice Cream Topping Freezer Equipment
We have the lowest prices available on Nelson Cabinets.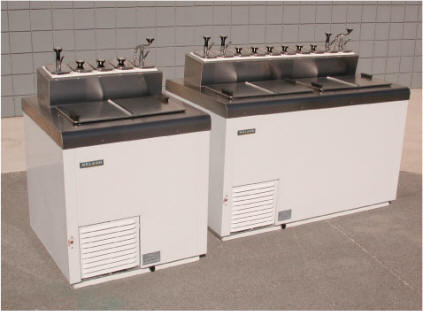 Flavor-Rails (aka Fountainettes) are where the toppings are housed. Strawberry, chocolate syrup, pineapple, etc. The rail houses the toppings and the cabinet is actually an additional freezer compartment. It is great for back-up cans as well as the basic flavors used in shakes and sundaes (usually vanilla, chocolate and strawberry will be dipped out of this cabinet).
Nelson BDF4 (above left)
Download drawing
Nelson BDF6
Download drawing
Nelson BDF8
Download drawing
Nelson BDF10
Download drawing
Nelson BDF12 
| | | | | | |
| --- | --- | --- | --- | --- | --- |
|  Specifications |  BDF4 |  BDF6 | BDF8 | BDF10 |  BDF12 |
|  Ship Weight |  260 |  325 | 345 |  370 |  430 |
|  Cu. Ft. Capacity |  7.5 |  13 |  17.5 |  23 | 28 |
|  Total  3 Gallon Ice Cream Tubs |  7 |  13 |  19 |  25 |  33 |
|  Compressor |  1/3 h.p. |  1/3 h.p. |  1/3 h.p. |  1/3 h.p. |  1/2 h.p. |
|  Amps |  8 |  8 |  8 |  8 |  8 |
|  Electric |  115v. |  115v. |  115v. |  115v. |  115v. |
Pump, Ladle & Jar Kits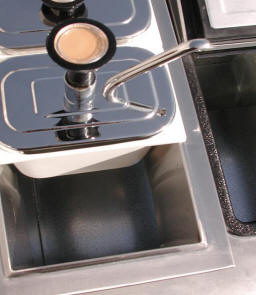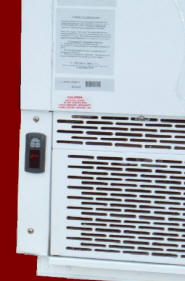 Kit #1: 1 Chocolate Pump, 1 Syrup Pump, 3 ladles with covers, 5 2-qt white jars.
Kit #2: 1 Choc Pump, 3 syrup pumps, 6 ladles with covers, 10 2-qt white jars.
Exclusive Digital Thermostat means you hit your perfect customized temperature 100% of the time. This little feature is a BIG deal. Pictured above on the left.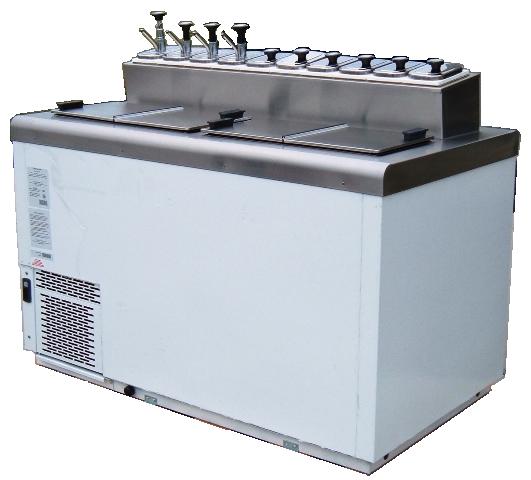 Nelson Flavor-rail cabinets include clog-free condensing units and are built to be installed against the wall with compressor air venting in/out thru the front.  This construction allows the flavor-rail cabinet to be pushed against the wall and built in on both sides.
Nelson make more sizes of flavor-rail cabinets than any other manufacturer.
Click on Images to Enlarge



Perfect preservation of product quality and flavor…continuous failure free operation that virtually eliminates maintenance…absolute minimum of operating costs…these are the advantages offered by Nelson's superior design and construction which can only be measured over long periods in terms of service and value. Since 1898, the industry's finest equipment for the protection of quality and flavor in ice cream and frozen foods.
TurnKeyParlor.com has the lowest prices on the highest quality ice cream topping
equipment guaranteed! We guarantee lower pricing than going to direct to the
manufacturer.
CABINET SPECIFICATIONS
One piece 22 ga. 304 stainless steel, all corners welded (no corner
pieces or raw edges, ever)
Galvanized steel reinforced sub-top beneath the stainless top
Anti-condensate heater wires on galvanized sub-top to prevent
condensation on cabinet top,
Galvanized steel interior. Optional 22 ga. 304 stainless steel exterior
and 24 ga. stainless steel interior
Copper tubing cold wall type evaporator attached to liner wall
Forced air condensing unit (clog free design on all BD models) on
glide-out base for efficient operation and built-in applications
Base of cabinet to be constructed of 16 ga. Galvanized steel, Poured-in
place urethane foam insulation with a minimum "K" factor of .13
Lids to be stainless steel top with poured urethane foam insulation and
hinged in the center with rubber handles
Freezer lid gaskets to be of a molded, one piece, high impact grade ABS
plastic
Cabinet to be equipped with a 7-ft power cord, 3 wire, grounded, dead
front construction
Unit to be NSF & ETL approved.
STAND ALONE COUNTER-TOP DIPENSERS
SAVE $ WITH THESE ECONOMY TOPPING OPTIONS BELOW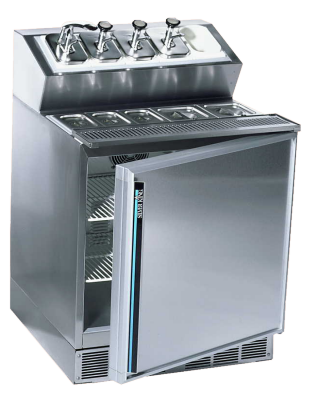 The Silver King which has a refrigerator and optional attachable dry storage cabinet is a very valuable piece of equipment, please call us at 877-817-5716 for more information and pricing on this unit.