The aroma of freshly baking waffle cones is the "flash
that gets the cash"! Customers prefer freshly baked cones and our equipment
makes it easy for you to serve giant waffle cones.
 Looking for ways to increase sales? Keep customers
coming back? It's an ice cream business fact that customers prefer freshly baked
waffle cones. If you own an ice cream parlor and you aren't up-selling your
customers to waffle cones, you are missing out on some extra cash.
Nemco Single and Double Waffle Irons.
Learn more below. Ready to buy? See details in our e-store HERE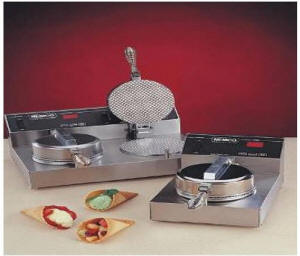 Watch Video on Making Waffle Cones in Your Shop
Ready to buy? See details in our e-store HERE
NEMCO Cone Bakers feature digital controls for fast,
convenient, precision baking of versatile waffle cones.
Heavy-duty, lock-down, fixed, seven-inch aluminum
grids provide uniform thickness, while flat-ring
heating elements bake to a taste-tempting, overall
golden brown. Preheats to ideal temperature in just
12 minutes and provides up to 60, 7" diameter cones
per hour, per grid. Easy-to-read LED display counts
down baking time. Audible alarm signals the minute
baking is complete. Coiled, spring-type handle
remains cool for fast, easy handling.The 7030 is a Single Grid Baker. The 7030-2 is a Double Grid
Baker
Single Grid Dimensions: 10 w X 15.25 d X 8 1/8 h
(inches) Height with handle up 17.5″
Double Grid Dimensions: 19.5 w X 15.25 d X 8 1/8 h (inches)
Height with handle up 17.5″
Ready to buy? See details in our e-store HERE
Features

Digital Programmable controls with count down
timer
Standard LED display and electronic audible
alarm
Top Mounted Control Panel, minimizes mess
Single or Dual grids available
Constructed of brushed stainless steel
Coiled Spring "Cool Touch" handles
Cast Aluminum Grids
Feet – Rubber approx. 5/16" high & adjustable
120 & 240 Volt models have UL, CUL, & NSF
listing
Ready to buy? See details in our e-store HERE