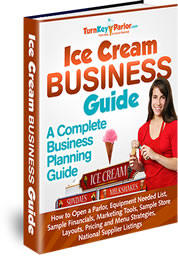 If you miss just one of the critical pieces of information needed to succeed in this business, it could cost you thousands.
We know that people who take the initiative to educate themselves on "their own dime" are the people who are serious about taking the steps necessary to succeed in their own business. If you're ready to learn more about the ice cream parlor business, then take a sneak peek at the wealth of information you will receive in our  Free E-book. Below are some of the things you will learn in the free guide.
Location/Site Selection Analysis: Traffic patterns, area demographics, etc.
Lease Rates – How much is too much? How much rent should 

you be paying as

a % of forecasted sales? How you can negotiate this important aspect of a start-up.
Little known strategies that will help you get the most out of your ice cream suppliers. Can they do better? We will let you know if
the volume you are/will be purchasing warrants a better price.
Tricks to help increase traffic, build repeat business.
When to promote.
Help with your customized business plan
Flavor placement: YES, it matters where you put certain
flavors – here's why.
4 secrets you NEED TO KNOW before you buying a used soft
serve machine. New ones are expensive and many times it makes sense to go
used, but you need to know what to "look out" for.
Pricing strategies that will add to your bottom line
Basics on employee training.
Proper scooping techniques. This is one of the most
important aspects of the business which most people seem to miss.
Keep your customers coming back.
Hand Packing Pints, Quarts for take-home. Is this a good idea or is it better to sell pre-packed product?
Should you have novelties (stick bars, etc.) in your store, or will this cannibalize sales of the more profitable scoop product?
Should you sell by scoop or by weight?
How many scoops do you REALLY get out of a 3 gallon tub?
Can you expect your supplier to pay if your ice cream
melts down because of a freezer problem or power outages?
Deals that seem great on the surface but really aren't.
What you can expect a supplier to help you with before
you open
We look forward to helping you with your venture!