Frozen Yogurt University is currently being upgraded, but for now, we can offer you this great FREE eBook below.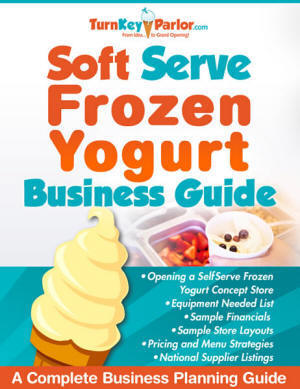 FREE SOFT SERVE FROZEN YOGURT BUSINESS E-BOOK
sign up for free download below
*see table of contents at bottom of this page


Learn the Basics on Opening a Self Serve Soft Serve Frozen Yogurt Concept Store

 See the Equipment you need

 Sample Financials

 Pricing –  How much does the product cost me? How much should I charge?

 

What is a good location? Which locations should I stay away from? 
Get the Business Guide FREE Simply Enter Your Name and email address into the form on the below to download it immediately!
Why do we give it away?  Is there a catch? No, no catch here. We simply figure if we provide great info without trying to reach into your wallet, you will eventually purchase equipment from us. Simple concept. We help you make an educated decision on whether this is a business that you want to get into, and if it is, you reward us by becoming our equipment customer.
See Table of Contents Below
    SOFT SERVE FROZEN YOGURT BUSINESS GUIDE
Overview……………..4
Self Serve Concept – Why this is the best choice…………..4-5
The Players – Your Options…………..6
Franchise……..6
Licensing………..9
Straight Purchase (Total Independent) – No money down, no royalties…9-10
Product Cost and Suggested Selling Prices………10
Liquid vs. Powder Mixes………10-11
Topping Costs…….12
Average serving sizes…..12
Typical Overhead Expenses…..12
Labor Costs……13
Rent…………..14
Utilities………..14
Sample Store Layout… 14
Key Equipment … 15
Machines: Stoelting, SaniServ and Taylor … 17-22
Register/Scale POS system … 23
Drop in refrigerated topping bar … 23
Location … 24
What works, what doesn't … 24
Biggest mistakes people make … 24
Why do we give valuable information for FREE? Is there a catch? No, no catch here. We simply figure if we provide great info without trying to reach into your wallet, you will eventually purchase equipment from us. Simple concept. We help you make an educated decision on whether this is a business that you want to get into, and if it is, you reward us by becoming our equipment customer.     DOWNLOAD THE OTHER FROZEN DESSERT BUSINESS GUIDES HERE