Blast Freezers – Ice Cream Hardening Cabinets
| | | |
| --- | --- | --- |
| | | |
| Single Door Uprights – Made in the USA | Double (Quad) Door Uprights – Made in USASEE PRICING AND MORE HERE | Counter-Table Top Blast Chillers Made in Italy |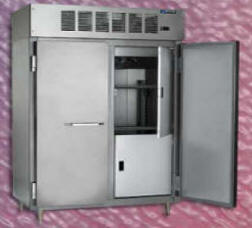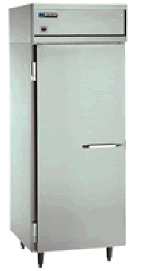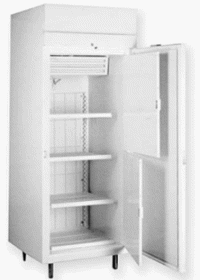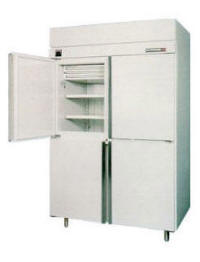 Masterbilt
Click here for pricing on one and two Door Blast Freezers
For Hardening Ice Cream
Global Refrigeration
One and Two Door Blast Freezers
One Door (double door) T30HSP

Two Door (quad door) T50HSQL

Two Door (quad door) T50HSQHP

One Door T30HSP
Two Door T50HSQL
One Door IHC-27
Two Door IHC-48
Two Door IHC-48
Two Door T50HSQHP
Ready to make your own ice cream, gelato or Italian Ice?
This type of ice cream storage cabinet is also referred to as an ice cream hardening cabinet, a flash freezer. blast chiller or shock freezer.
Why do you need a hardening cabinet to make quality ice cream, gelato or Italian Ice? The blast freezer is an essential part of the process for the following reason. If you don't freeze the ice cream fast enough, it will develop ice crystals. Ice crystals will make your product taste grainy and icy, and we all know that high quality ice cream is smooth as silk.
Because these blast freezers go down as low negative 30 degrees F or better, they will freeze your ice cream or gelato quickly, avoiding ice buildup.
Really tight on Space? Choose the Smaller Countertop Model Below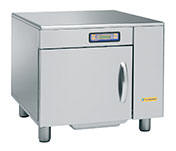 Counter Top TJOF1 (pictured above) – Click here for pricing and details.
COUNTERTOP BLAST FREEZER (FOR HARDENING GELATO, ICE CREAM TUBS (CAN FIT
THREE 3 GALLON TUBS INSIDE) or FOUR 5 liter GELATO PANS