Ice Cream Dipping Cabinets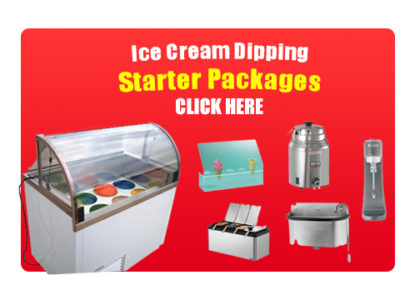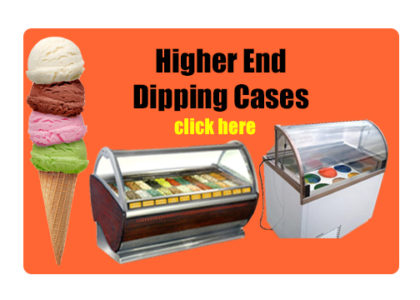 Ice Cream Dipping Cabinets
Check out our large selection of Ice Cream Dipping Cabinets below!
4 Flavor Ice Cream Cases
8 Flavor Ice Cream Cases
12 Flavor Ice Cream Cases
16 Flavor Ice Cream Cases
Looking for a reliable, low cost Ice Cream Dipping Freezer?
Our TKPEDC series ice cream dipping cabinets (4 flavor, 8 flavor and 12 flavor) represent the quickest, most affordable way to get in the Ice Cream, Gelato or Italian Ice  business. Typically, it only takes a few business days to ship your freezer and shipping is free for a limited time. Check out our verifiable Testimonials to hear it straight from others who have purchased these dipping cabinets.
Watch Video On This Dipping Cabinet by Clicking PLAY Button on Screen
Why buy new?
Health Department can get picky about used equipment. Why take the chance?
Full Warranty on parts, labor and compressor (details below)
Customers appreciate being served ice cream from a nice, new, clean freezer – resulting in more repeat customers
Why are the TKPEDC Series Dipping Cabinets the Best Value Out There?
Heat reflective glass lids provide extra protection from ice build up commonly found in other dipping freezers
Electrical requirements are minimal in comparison to other dipping freezers – meaning much lower electric bills
Can holders included in price help keep ice cream tubs steady for easier scooping
Four locking casters make it easy to move freezer from one location to another
Adjustable Thermostat makes it easy to find your optimal scooping temperature
Best warranty in the business: 5 years on compressor, 1 year on parts, 90 days on labor

Ready to buy? See Buy Now Button below. We take Paypal or any major credit cards. Don't like to pay online? Call us and we'll take your info over the phone? Want to mail a check? Let us know.
Buy Now Buttons for TKPEDC-8 Models:
$1899 & Free Shipping
We ship our ice cream dipping cabinets for sale to the following cities, states and countries:
New York, Los Angeles, Chicago, Houston, Phoenix, Philadelphia, San Antonio, San Diego, Dallas, San Jose, Detroit, Jacksonville, Indianapolis, San Francisco, Columbus, Austin, Memphis, Fort Worth, Baltimore, Charlotte, El Paso, Boston, Seattle, Washington, Milwaukee,
Denver, Louisville/Jefferson County, Las Vegas, Nashville-Davidson, Oklahoma City, Portland, Tucson, Albuquerque, Atlanta,
Long Beach, Fresno, Sacramento, Mesa, Kansas City, Cleveland, Virginia Beach, Omaha, Miami, Oakland, Tulsa, Honolulu,
Minneapolis, Colorado Springs, Arlington, Wichita, Raleigh, St. Louis, Santa Ana, Anaheim, Tampa, Cincinnat, Pittsburgh,
Bakersfield, Aurora, Toledo, Riverside, Stockton, Corpus Christi, Newark, Anchorage, Buffalo, St. Paul, Lexington Fayette, Plano, Fort Wayne, St. Petersburg, Glendale, Jersey City, Lincoln, Henderson, Chandler, Greensboro,
Scottsdale, Baton Rouge, Birmingham, Norfolk, Madison, New Orleans, Chesapeake, Orlando, Garland, Hialeah,
Laredo,Chula Vista, Lubbock, Reno, Akron, Durham, Rochester,
Modesto, Montgomery, Fremont, Shreveport,
Arlington,Glendale
AK,ALASKA, AL,ALABAMA, AR,ARKANSAS, AZ, ARIZONA CA, CALIFORNIA,CO,COLORADO, CT,CONNECTICUT, DE, DELAWARE, FL,FLORIDA, GA,GEORGIA, HI,HAWAII, IA,IOWA, ID,IDAHO, IL, ILLINOIS, IN, INDIANA, KS,KANSAS, KY,KENTUCKY, LA,LOUISIANA, MA, MASSACHUSETTS, MD, MARYLAND, ME, MAINE, MI,MICHIGAN, MN,MINNESOTA, MO,MISSOURI, MS, MISSISSIPPI,, MT, MONTANA, NE, NEBRASKA, NC, NORTH CAROLINA, ND, NORTH DAKOTA, NH, NEW HAMPSHIRE, NJ, NEW JERSEY, NM, NEW MEXICO, NY, NEW YORK, NV, NEVADA, OH, OHIO, OK, OKLAHOMA, OR, OREGON, PA, PENNSYLVANIA, RI, RHODE ISLAND, SC, SOUTH CAROLINA, SD, SOUTH DAKOTA, TN, TENNESSEE, TX, TEXAS, UT, UTAH, VA, VIRGINIA, VT, VERMONT, WA, WASHINGTON, WI, WISCONSIN, WV, WEST VIRGINIA, WY, WYOMING
Canadian Provinces:
British Columbia, Manitoba, New Brunswick, Newfoundland and Labrador, Nova Scotia, Ontario, Prince Edward Island, Quebec, Saskatchewan, Yukon Territory, Alberta. Canadian Cities: Montreal, Calgary, Toronto, Winnipeg, Edmonton, North York, Scarborough, Mississauga, Vancouver, Laval
Ice Cream Dipping Freezers for sale, Ice Cream Dipping Freezer, Ice Cream Scooping Freezer, Ice Cream Scooping Freezers, Freezer for scooping ice cream, glass front ice cream freezer, ice cream store freezer, shop freezer, parlor freezer, cabinet, cabinets, dipper, freezer for dipping cones, 8 flavor, 12 flavor, 16 flavor, 4 can, 8 can, 12 can, 4 bucket, 8 bucket, 12 bucket, 3 gallon, 5 gallon, ice cream tub holders, and more!