How to Make Your Own Ice Cream, Gelato or Italian Ice

Sign up below to attend a FREE, live webcast. Watch
Steve Thompson make Ice Cream, Italian Ice, and Gelato. Neil Williams
will also be present on site to discuss some business basics on selling
wholesale, plus mobile vending from carts.
WANT TO BE THERE IN PERSON (Brooksville, FL)?  CALL 718-588-7300
To register for the web show, simply enter your first
name and e-mail in the form. You will receive a few e-mail's reminding
you as we get closer to the webcast date, which is normally every other
month – first Wednesday of the month.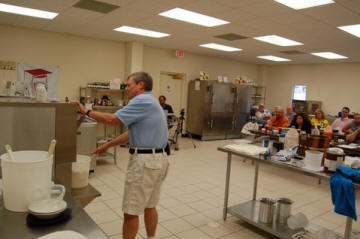 9:00
– NOON: 

Learn how to make hard ice cream and gelato
by watching Steve work his Emery Thompson Batch Freezers. Neil
Williams talks about hardening cabinets, dipping cabinets, gelato
cases and mobile vending (carts).


Noon – 1pm:

Students attending on site discuss  their business plans



1pm – 3:30pm:

 


Learn how to make sorbet, Italian ice and frozen lemonade
SIGN UP BELOW