Frozen Novelty Push Carts
Italian Ice Dipping Cart
No Refrigeration Models
**Meeting health department requirements is the customers responsibility. Check local requirements before you order. We cannot accept returns due to health department restrictions discovered after the order.
PACKAGE DEAL SPECIAL
$1990​
 CLT-4 No Refrigeration Cart
$1599
Four (4) Removable/Reuseable
"cool packs" (cold plates) – $55 each
$220
Italian Ice Umbrella
$125
Shipping
$275
TOTAL
$2219
PACKAGE DEAL FOR ABOVE ONLY $1990
(save $320, includes shipping) or $1799 without cool packs (cart + umbrella – includes shipping) or $1699 cart alone (includes shipping)
Click here to download spec sheet
(see pictures and video below)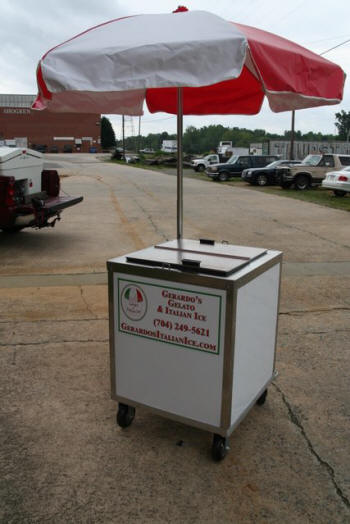 Our CLT-NR (no refrigeration) carts are meant mainly to scoop Italian Ice for a limited amount of time. These carts are similar to the ones that Little Jimmy's uses for their Italian ices. The debate is really about how long you can actually dip the ice before it starts to melt. With our new removable "cool packs" there is no question our carts hold temp for much longer without needing dry ice.
These carts are really well insulated, and I've had some customers tell me that they were able to get up to get 6 hours of scooping ice without using dry ice.
WATCH VIDEO ON THE CLT-4 No Refrigeration Push Cart
(hit play button below)
Umbrella = $145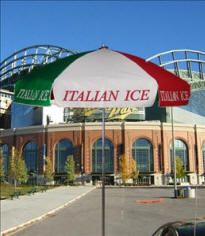 Model CLT4-NR (no refrigeration)
Capacity 7 cu.ft.
Approx 700 novelties or
 4 tubs on top, 4 on the bottom
 33 1/3″ L X 38 3/4″ H X 28 1/2 W
2-6 weeks lead time
see more pictures below

Model CLT6-NR  (no refrigeration – special order only)
Capacity 10 cu.ft.
Approx 1000 Novelties or
6 tubs on top, 6 on the bottom
 43 1/4″ L X 38 3/4″ H X 28 1/2 W
special order – 8-10 weeks lead time
Note: Umbrella bracket in newly designed CLT carts are not where you see them in the video. See the pictures below and you will see the umbrella bracket is more convenient. Basically a hole in the middle, right in front of the push bar.​
Specs for the CLT NR Models: Lid locks standard on all models. Top to be 18 ga. type 304 stainless steel, standard. Optional solid surface materials. Base frame to be welded aluminum. All exposed corners welded and polished smooth. Finished exterior stanrd in white ppre-paint steel. Optional Lexan panels at additional charge.
Wheels to be 6″ or 8″ diameter (2) swivel w/locks, (2) rigid. Load rating of wheel to be a minimum of 350 lbs. each. Interior of cart to be 24 ga. stainless steel, standard. Bottom drain installed Carts to have 5 year limited warranty against insulation failure.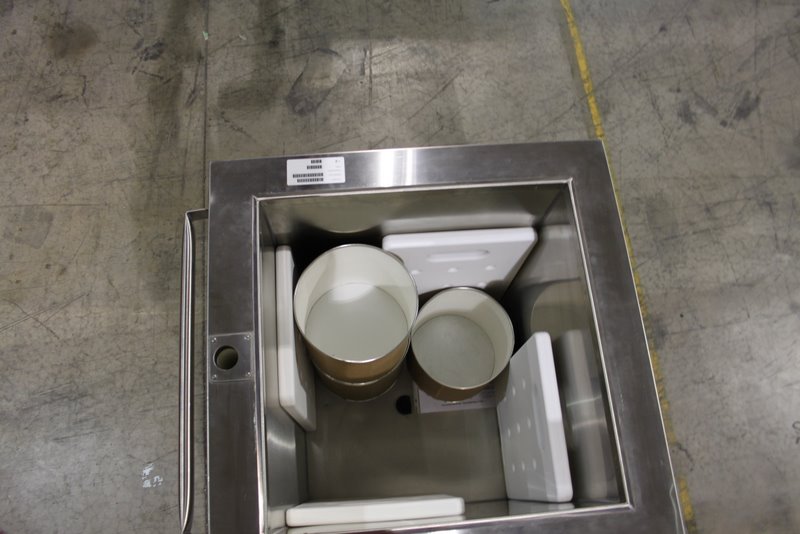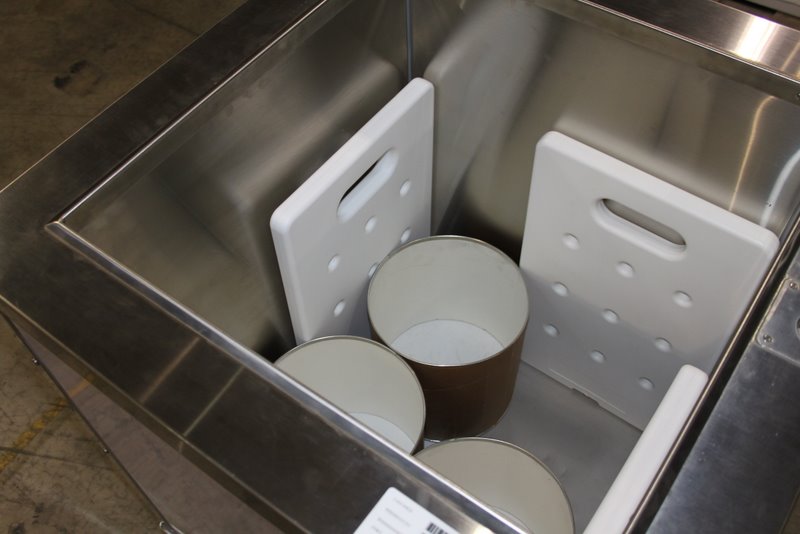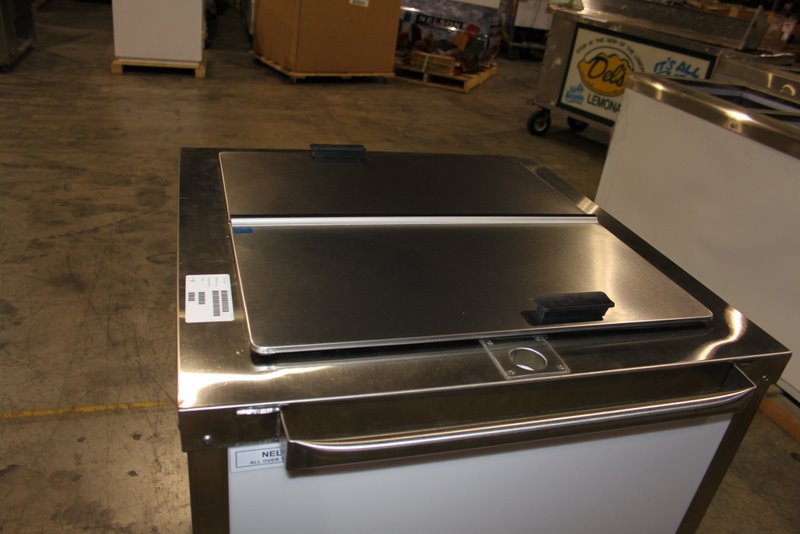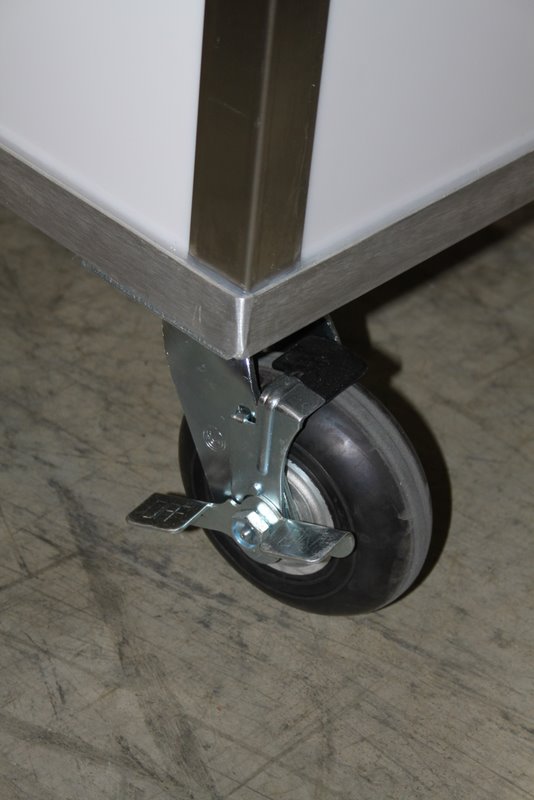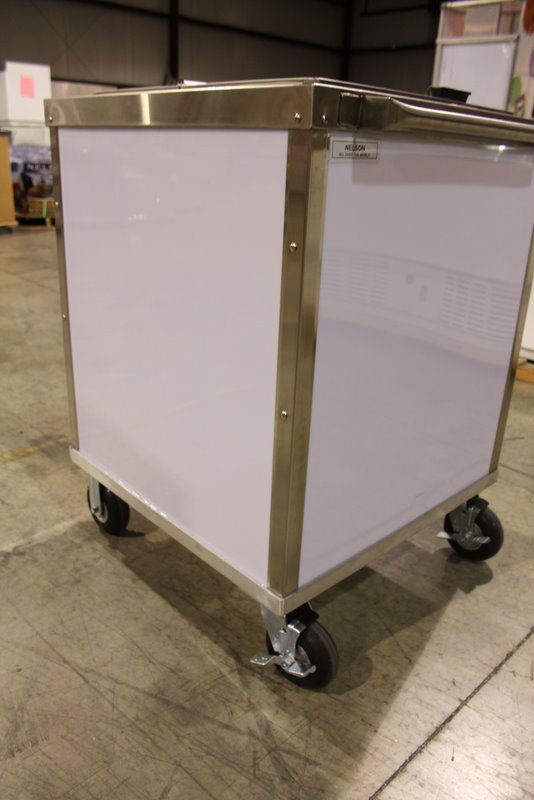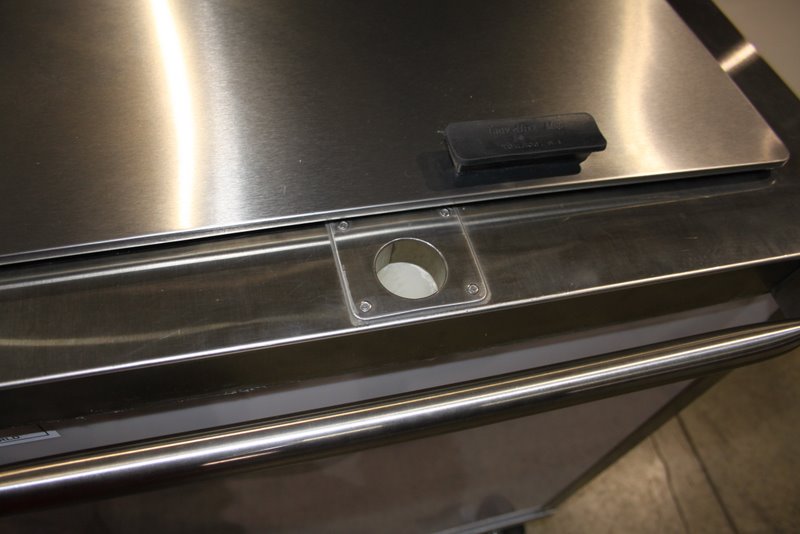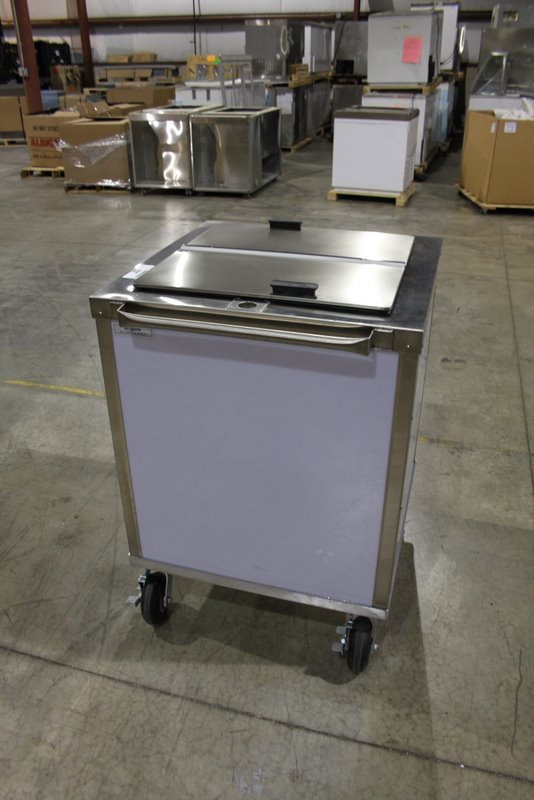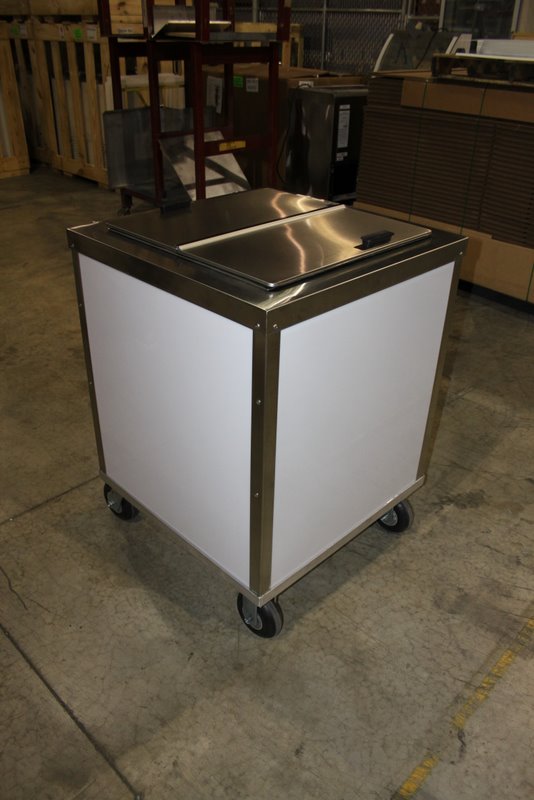 MORE VIDEO: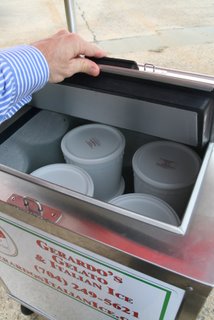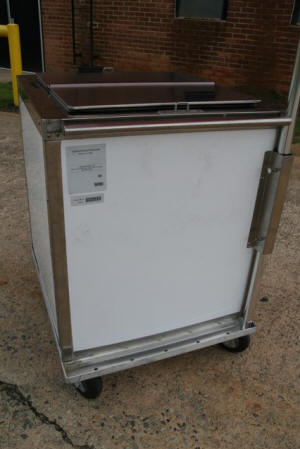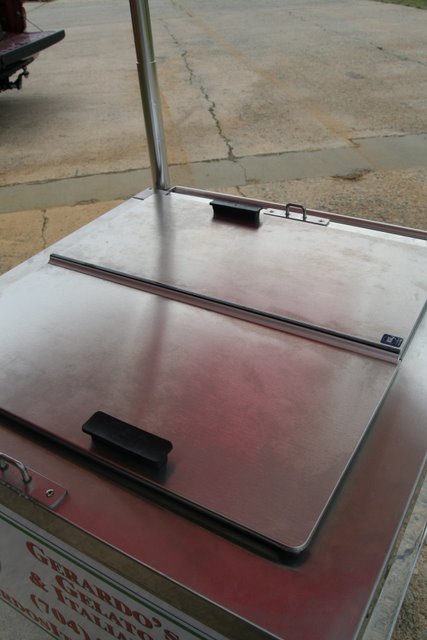 The best value in Ice Cream Frozen Novelty Pushcarts with the features you need. These ice cream carts are perfect for selling ice cream outdoors. Stock full of ice cream bars, ice cream cups, plug it in overnight and sell all day without electrical power. Cart will hold below zero temp for up to 12 hours. Nelson Carts are durable, long lasting and are built up to a standard, not down to a price. If you are serious about selling ice cream novelties at outdoor events, you want to make this investment.
NELSON ICE CREAM PUSH CARTS ARE 100% AMERICAN MADE


BDC-4 With Graphics – Click
here for more information and pricing


BDC-6 (With Graphics and Bike Wheels)
Click here for more information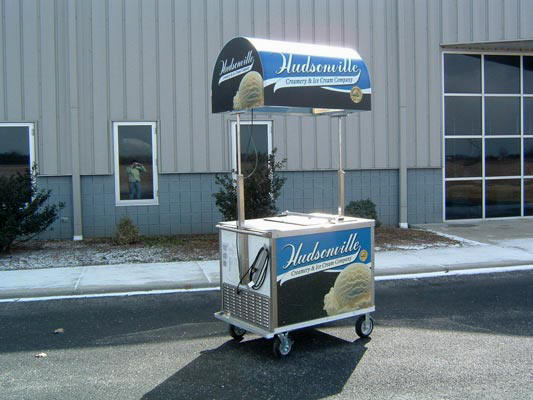 BDC-8 With Graphics and Umbrella 
Click here for more information


BDC-8S With Bike Wheels 
Click here for more information


BDC-10 – For Major Events
Click here for more information
Large capacity 

compressors

100% American-made, easily serviced by local refrigeration 

companies

All exterior trim is rust proof, standard exterior panels of white FRP.*
Various temperatures available** – Frozen novelty store – Ice cream dipping – Italian Ices – Soft-Frozen Slushes – Refrigerated Products
Large selection of caster and wheels to suit your application
Custom graphics on UV-protected Lexan
Constructed for outdoor mobile use
Mechanical refrigeration and built-in cold plates
* FRP us Fiberglass Reinforced Plastic
** specify the product temperature you desire (if other than frozen novelties) prior to shipment from factory.
Ice Cream Cart, Ice Cream Push Carts, Ice Cream Novelty Carts, Italian Ice Carts
ice cream push carts for sale
ice cream push carts for rent
used ice cream push carts for sale
build your own ice cream push cart
ice cream push cart rental
ice cream push cart ebay
ice cream push cart parts
ice cream push cart freezer