MENU SOLUTIONS! ICE CREAM MENU BOARDS
Turnkeyparlor.com uses Mainstreet Menu Systems exclusively due
to their on time performance when it comes time to get a menu board done and get
it done right. As a Mainstreet Menu distributor, we get our customers the best
pricing available. The whole menu board issue can seem rather tedious with all
the choices available. But as you'll read below, with a little basic
information, we can guide you and make a seemingly complicated task easy!
Easy to Order
Simply mail, fax or e-mail a copy of your menu and the completed layout
request form (click here to get copy) to us at turnkeyparlor.com. In just a few
days, Mainstreet's Menuboard Design Specialists will design your menu system and
send you a  free, custom color layout to you for approval.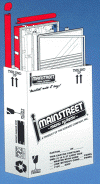 All-Inclusive
Package Pricing
One basic price includes your complete menu system, ready to install,
delivered via regular ground service within the continental USA. Mainstreet also
includes a two-year warranty for indoor systems and a one-year warranty for
outdoor systems excluding strips, translites and fluorescent lamps.
Fast Delivery
Orders are normally shipped within ten working days after turnkeyparlor.com
receives your signed, approved layout and purchase order from you.
Easy to Install
The unique, modular construction of Mainstreet's indoor illuminated system
allows you to simply "snap" and "lock" the lightboxes together. All necessary
hardware is included with each indoor and outdoor menu systems.
The best approach to developing a menu board is to decide 
what you are willing to budget for this important aspect of your parlor. A
ballpark figure for a professional, backlit parlor menu board is about
$1200.00. 
There are also inexpensive options to a backlit board.

Operate an Ice Cream Parlor or Concession? This guide is for you!
Introducing….
Double Your Dipping: How to Explode Your Ice
Cream Profits
through Proven Marketing Strategies
Ice
Cream Business Marketing Guide

Low Cost Ways to Promote Your
Ice Cream Shop
Simple Strategies for Getting
Customers in Your Shop
Free Public Relations Tools to
Promote Your Business
Brand Your Ice Cream Shop
Tips for Beating Out the
Competition
5 Ways to Make your Customers
Happy
Events to Promote Your Ice
Cream Shop
Promote Your Shop for Free
Online
Utilize Print Promotion to Its
Fullest Potential

Satisfaction Guaranteed!
ONLY $24.95 – BUY NOW AND GET OTHER AWESOME BONUSES!