Frozen Yogurt Topping Bar Rail Staion Options for Frozen Yogurt Stores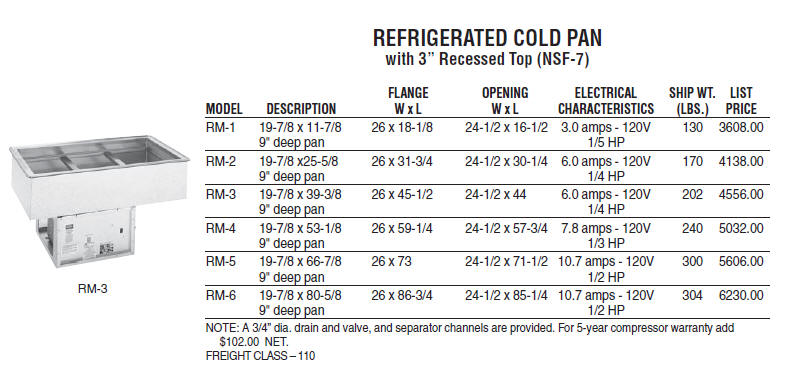 We offer the Atlas Metal drop-ins (RM Models SPECS)
for refrigerated toppings. 

If you want one for dry items like candy you want one of our WIC models SPECS. 

See a picture of what these might look like side by side HERE.

If you want a more "slim-line" refrigerated drop in, you would want the 

RML model (SPECS).
See pricing on all these options below.
MODEL
# of toppings
Adapter bars
needed
(included
in price)



Turn-Key Price




(

free
shipping)
One-Sixth
Pans
Needed
(not included)
Pans not
included
buy here
RM-1
6 toppings
2
$2640.00
6

buy pans
RM-2
12 toppings
4
$2992.00
12

buy pans
RM-3
18 toppings
6
$3442.00
18

buy pans
RM-4
24 toppings
8
$3845.00
24

buy pans
RM-5
30 toppings
10
$4318.00
30

buy pans
RM-6
36 toppings
12
$4827.00
36

buy pans

The RM refrigerated drop in's come in six different sizes. The RM-1,

RM-2, RM-3, RM-4, RM-5 and RM-6. Each section holds six toppings.

For example, if you go with the RM-3, you will feature 

18 toppings (3 sections X 6 pans = 18 toppings). The size of the pan

is called a one-sixth food-service pan, and you want the ones that 

are 4″ deep. They are not included with these units, and we don't sell

them, but you can buy them HERE (this
is just a recommendation, these

pans come in different materials and almost any restaurant supply will

sell them).


With the drop-in's, you'll also need what are called adapter bars. You
will

need 2 of these per section, and they cost $29 each.


You will also need a sneeze-guard. See a sample picture HERE.
As well

as a spec sheet HERE. 
Count on anywhere from $250 to $500 for the

sneeze-guard, depending on how much space you need to cover. In other

words, if you need to cover both the dry and cold topping areas, the

sneeze-guard will need to be longer.


Costs on the RM refrigerated topping bars

including shipping
and the adapter bars are
below:


Refrigerated Toppings

RM-1 (6 toppings) = $2640

RM-2 (12 toppings) = $2992

RM-3 (18 toppings) = $3442

RM-4 (24 toppings) = $3845

RM-5 (30 toppings) = $4318

RM-6 (36 toppings) = $4827

Slimline:

RML-1 (6 toppings) = $3365

RML-2 (12 toppings) = $3823

RML-3 (18 toppings) = $4481

Dry Toppings:

WIC-1 (6 toppings) = $1142

WIC-2 (12 toppings) = $1341

WIC-3 (18 toppings) = $1699

WIC-4 (24  toppings) = $1822

WIC-5 (30 toppings) = $1985

WIC-6 (36 toppings) = $2238


Please call us at 877-817-5716 if you have questions about

our drop in topping options.
Or, if you want to make your life a little simpler, you can order the
refrigerated topping unit already built into the counter as shown in the
options below. This way you can buy it as an already assembled unit,
including a glass sneeze guard. They have small casters (wheels) to make
it easy to move them around to clean under. They also lock firmly in
place. But beware…they are pricey.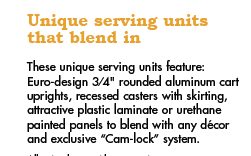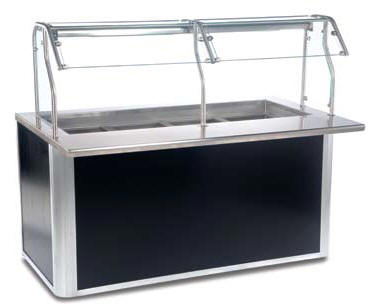 Above: Model BLC-4 RM S/S- Refrigerated Cold Pan with 3″ recessed top.
40″ Wide with stainless Steel Top – Total cost, Shipping Included =
$12,500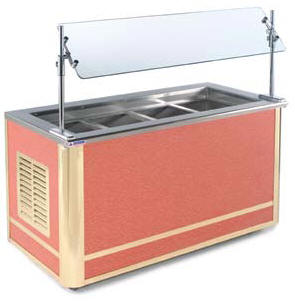 Above: Model BLC4 RM – Refrigerated Cold Pan with 3″ recessed top.
Total Cost, Shipping
Included = $11,900