Used Frozen Yogurt Store Machines and Equipment for
Sale
11 Months Old – Like New – Excellent Condition
Sold as a PACKAGE DEAL only
Sorry, this deal has sold,

but we have others. See them HERE

Includes 4 machines, freezer, refrigerator, POS
system, storage racking, tables, stools. See details below

Owner paid close to $60k for this equipment just 11
months ago. It is in perfect working condition and is immaculate.

Package deal price is $35,900 with FREE SHIPPING to
lower 48

If you're planning a self serve frozen yogurt store,
then this purchase gets you 90% of the way to making your plan a
reality. This deal gives you a big advantage by getting started for a
much lower initial investment

Must be ready to receive equipment – we cannot hold
it – we can deliver to self storage facility if necessary

This equipment will not last – serious buyers only
please. This means that if you're interested, you will need to do put a
non-refundable $1,000 deposit on a credit card, and then wire the
balance to our bank within 24 hours. Otherwise, the equipment will be
made available to another buyer.

Click the link below the equipment list to see an
online photo album of the equipment. Double click the photos, then use
the arrows on your keyboard to move from picture to picture.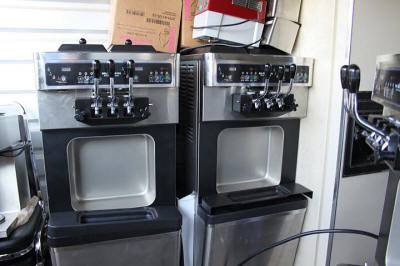 The Wellspring Model 310 machines are being used by
Tutti Frutti frozen yogurt stores all over the US. Parts and support are
easy to get shipped from Wellspring (www.wellspringusa.com) in Santa Fe
Springs, CA
Equipment List:
QTY
Item
Description
Model
4
Wellspring machines – 220V, Single
Phase, Air Cooled
WIM-310/SSI-143S
spec sheet link
1
Arctic Air One Door Upright Frezer
F22CWF
spec
sheet link
1
Turbo Air Countertop Refrigerator
Display Case
TGM-5R
spec sheet link
1
Sunrise Technology 1 terminal POS system
w scale
Froyog
spec sheet link
1
True T-49 Refrigerator

 

T-49
spec sheet link
8
Bar Stools
Diner Style
5
Round Tables
Silver
4
Dry Storage Racks
Stainless Steel

CLICK HERE TO SEE PHOTO ALBUM OF EQUIPMENT
Double click the photos, then use the arrows on your
keyboard to move from picture to picture.
Please call 877-817-5716 if you are interested or
email sales@turnkeyparlor.com
with questions